PAM x Forfex!
I've been watching this brand for a while, a year and some change, and I still can't quite figure them out.
Perks and Mini
surfaced to me when they graced the pages of an old issue of juxtapoz I was reading while waiting for a flight in Denver; I loved the artwork but when I found out there was a clothing line I flipped and instantly started looking for a vendor in Toronto (my final destination). Hard to come by and more pricey than one would expect, Perks and Mini set it off. With that being said, I'd like to introduce to you a collaboration between PAM and a little known Italian footwear brand named
Forefex
.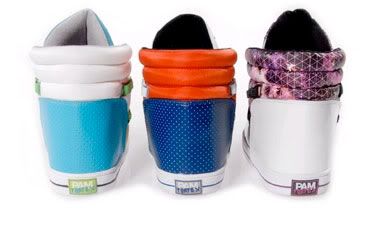 I initially looked at this shoe and loved it but thought it, as most great fashion is, un-wearable day-to-day; and I am slowly changing my mind. I need that white orange colorway in my life and no, they would never see snow or any climate that might justify this purchase.
No release on dates or prices yet. Info via
Highsnob